On-Site Nursing Skills and Simulation Labs
As an ABSN student, you will regularly attend nursing skills and simulation labs at our facility north of Seattle, Washington in Lynnwood—so be sure to live within driving distance. Through a series of lab exercises, our instructors teach you how to convert the nursing concepts you learned online into psychomotor skills.
Nursing Skills Labs
Accelerated BSN skills labs educate you on the safe, effective application of basic nursing procedures, such as catheterization, intramuscular injections, nasogastric tube insertion and wound care. Inside the lab, you get to practice and hone your skills using clinical task trainers and full-body medical manikins.
Nursing Simulation Labs
Simulation labs provide a realistic platform for you to intervene in diverse patient care scenarios. From an adjacent control room, our faculty observes how well you integrate theory, practice and reasoning in real-time clinical scenarios.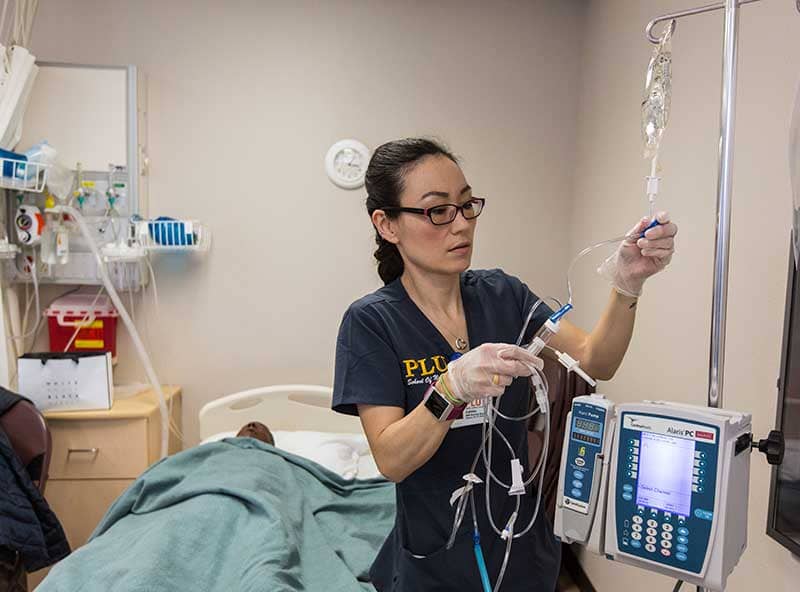 Challenging you to think critically, problem-solve and collaborate, these learning exercises teach you how to apply your skills within the context of broad clinical practice. You also build mental models, which develops your capacity to think on your feet. Either a high-fidelity manikin or a trained individual carries out the patient role during a simulation.
Following a simulation, you will participate in a debriefing session with your instructor and classmates to discuss the exercise. You will be encouraged to reflect on the experience, allowing your instructor to understand your actions and clinical approach. Overall, these sessions are lessons in learning where there is no criticism, only constructive feedback.
Overall, lab experiences develop your individual and team-based nursing competencies in a risk-free environment where we see mistakes as valuable learning opportunities. Labs also help remove the fear of the unknown, making it easier for you to transition into your clinical rotations.
Contact us to learn more about our on-site nursing skills and simulation labs.